Welcome to the Electrical Engineering Department
With the rapid development in the technology with innovations and creations, it is difficult to face the challenges in the changes in Electrical Engineering industry with more emphasis on areas of power and electronic systems.
Being a developing country, involvement in the industry is more based on operations and maintenance of electrical systems. While achieving these objectives, the Electrical Engineering Department offers advanced courses to the apprentices in the area of Electrical and Electronic Engineering, Power Technology, Networking and Communication Technology.
IET has designed the syllabus and curriculum to train industry-based technologist with wide range of applications which includes circuit designs, electrical installation, digital electronics, power generation and distribution systems, communication systems and networks.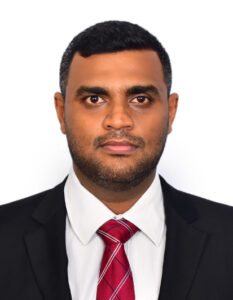 Mr.Chamira Asanga Hapuarachchi
Office:011254667    Mobile:0703638427    email: chamira@iet.edu.lk    
Dear Students, Faculty, and Visitors,
Welcome to the Department of Electrical Engineering (Academic) at Institute of Engineering Technology, Sri Lanka. As the Head of the Department, it is my pleasure to introduce you to our dynamic and diverse community of learners and educators.
Here we are proud to offer the National Diploma in Engineering Sciences (NDES) at the technologist level. This prestigious award recognizes the academic achievements and practical skills of our students in the field of engineering sciences.
Our department is committed to providing a high-quality education that prepares our students for successful careers in industry, academia, and public service. We strive to create an inclusive and supportive learning environment that encourages innovation, critical thinking, and lifelong learning.
Thank you for your interest in our department. We look forward to helping you achieve your academic and professional goals.
Best Regards,
Chamira Asanga Hapuarachchi
BEng (Hons), MBA, MIET, MBCS
Head of the Department ( Electrical Engineering – Academic)
Electrical and Electronic Engineering department offers two specialized courses in the field of :
Electrical and Electronic Engineering - Power Engineering:
This course provides a comprehensive understanding of the generation, transmission, distribution, utilization of electric power, electronics systems, and embedded systems. It equips students with the knowledge and skills to design, analyse, and manage power systems effectively.
Electrical and Electronic Engineering - Network and Communication Engineering:
This course focuses on the principles and practices of modern communication networks. It covers a wide range of topics, including network architecture, protocols, wireless communication, and data transmission techniques, electronics systems, and embedded systems.
The Department has well equipped laboratories which caters all Electrical Engineering disciplines as follows.
Electrical Machines Laboratory
Electrical Measurement Laboratory
Electrical Electronic Laboratory
Electrical Telecom Laboratory
Electrical Advanced Communication Laboratory
Electrical Embedded System Laboratory
Electrical Automation Laboratory
Electrical Bio Medical Laboratory
Electrical Computer Laboratory